Open SEO Stats: Chrome SEO Toolbar
Updated on Sep 16, 2014:
PageRank Status
has been renamed to
Open SEO Stats
because of Google
Single Purpose
issue.
Безплатно инсталиране на Chrome SEO toolbar: Open SEO Stats
(Former name: PageRank Status)
Едно истинско SEO разширение за Google Chrome за лесен достъп до Alexa Rank, Compete Rank и Quantcast Rank на уебсайтовете, както и за информация за връзките, индексираните страници, кешираните страници, социалните контакти, Whois, Geo IP location и още много полезни неща.
Screenshot of Open SEO Stats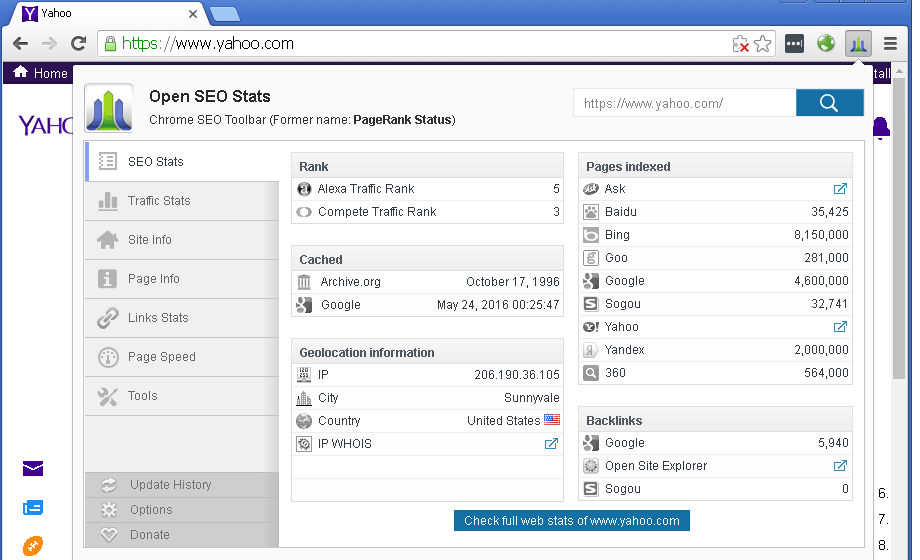 Update History
Open SEO Stats 9.60 (April 10, 2017)

Adjust the page layout for Chrome v57.0.
Remove Compete and Quantcast from SEO Stats and Trafic Stats page. Compete has been been shut down; Quantcast has been been stopped their public API.
Support for Goo.ne.jp and yandex.com new search results of pages indexed. These 2 search engines changed the formats of search results recently.

Open SEO Stats 9.50 (May 25, 2016)

Remove Delicious Likes from Site Info page. Delicious has stopped their publich API to query the Delicious Likes.
Small bug fixes.
---

Преводач:
Vladec Nenov
---
Бележка: Всички изображения и имена на Google са запазена марка на Google Inc. Всички упоменати марки, имена на продукти, услуги и търговски марки принадлежат на техните собственици и са тяхна отговорност.