Open SEO Stats: Barra d'eines de Chrome SEO
Updated on Sep 16, 2014:
PageRank Status
has been renamed to
Open SEO Stats
because of Google
Single Purpose
issue.
Instalar gratis la barra d'eines de Chrome SEO: Open SEO Stats
(Former name: PageRank Status)
Una extensió de Google Chrome per a facilitar l'accés per a veure el rànquing d'Alexa, el rànquing de la competència i el rànquing de Quantcast de la pàgina actual, a més a més, obtenim informació dels backlinks, pàgines indexades, pàgines en caché, xarxes socials, Whois, geolocalització IP i més.
Screenshot of Open SEO Stats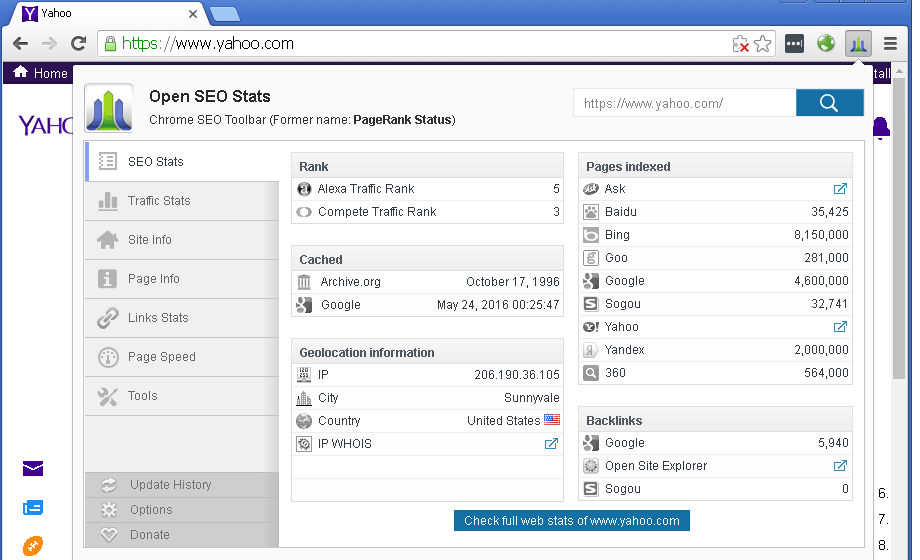 Update History
Open SEO Stats 9.60 (April 10, 2017)

Adjust the page layout for Chrome v57.0.
Remove Compete and Quantcast from SEO Stats and Trafic Stats page. Compete has been been shut down; Quantcast has been been stopped their public API.
Support for Goo.ne.jp and yandex.com new search results of pages indexed. These 2 search engines changed the formats of search results recently.

Open SEO Stats 9.50 (May 25, 2016)

Remove Delicious Likes from Site Info page. Delicious has stopped their publich API to query the Delicious Likes.
Small bug fixes.
---

Traductor:
Marc Rabal Polo
---
Notice: All Google icons and names are trademarks of Google Inc. All referenced brands, product names, service names and trademarks are property of their respective owner(s).