Open SEO Stats: Chrome SEO Toolbar
Nadograđeno Sep 16, 2014:
PageRank Status
je preimenovan u
Open SEO Stats
zbog Google-ove
Single Purpose
pitanja.
Besplatna instalacija Chrome SEO Toolbar-a: Open SEO Stats
(Prošlo ime: PageRank Status)
Pravi SEO dodatak za Google Chrome da bi lakse pristupili Alexa Ranku, Compete Ranku i Quantacast Ranku trenutne stranice uz dodatne informacije o povratnim linkovima, indeksiranim stranicama, keširanim stranicama, društvenim mrežama, Whois, GEO IP lokaciji i još dosta toga.
Screenshot of Open SEO Stats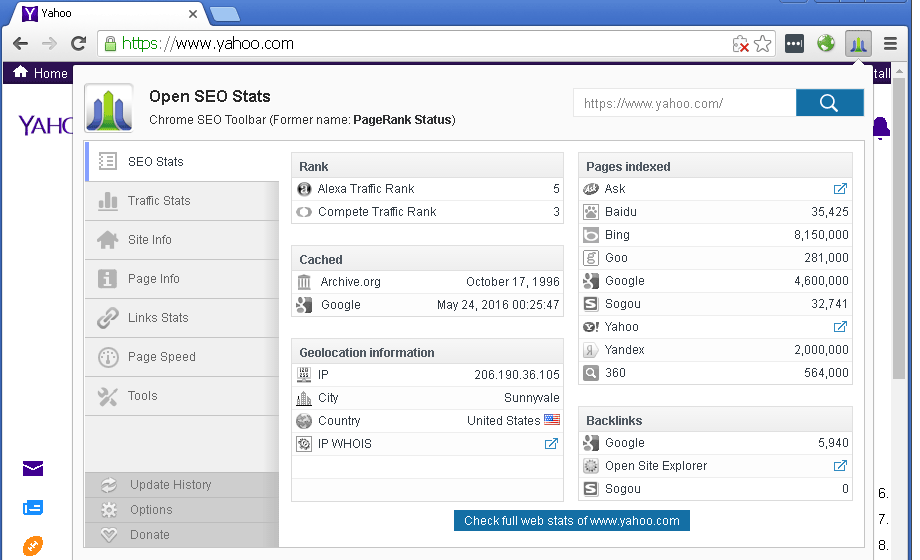 Historija Nadogradnji
Open SEO Stats 10.0 (June 19, 2019)

Support for 360, Goo.ne.jp, Sogou and Yandex new search results of pages indexed. These search engines changed the output formats of search results recently.
Support for Archive first cached time. Archive.org changed the cache data formats recently.
Remove Google+ social stats from Site Info page. Google+ was shut down on April 2, 2019.
Improve the checking speed for Chrome verion 75.
Fix small bugs.

Open SEO Stats 9.60 (April 10, 2017)

Adjust the page layout for Chrome v57.0.
Remove Compete and Quantcast from SEO Stats and Trafic Stats page. Compete has been been shut down; Quantcast has been been stopped their public API.
Support for Goo.ne.jp and yandex.com new search results of pages indexed. These 2 search engines changed the formats of search results recently.
---

Prevoditelj:
Alija Gogic
---
Notice: Sve Google-ove ikone i imena su zaštitni znaci u vlasništvu Google Inc. Svi pomenuti brendovi, imena proizvoda, servisa i prava su u vlasništvu njihovih vlasnika.