Open SEO Stats: Chrome SEO Toolbar
Updated on Sep 16, 2014:
PageRank Status
has been renamed to
Open SEO Stats
because of Google
Single Purpose
issue.
Gratis instalatie Chrome SEO Toolbar: Open SEO Stats
(Former name: PageRank Status)
Een echte SEO uitbreiding voor Google Chrome om makkelijk de Alexa Rank, Compete Rank en Quantcast Rank van de huidige webpagina laat zien. Als uitbreiding kan je ook informatie krijgen over de backlinks, geindexeerde paginas, cached paginas, socials, whois, Geo IP locaties en meer.
Screenshot of Open SEO Stats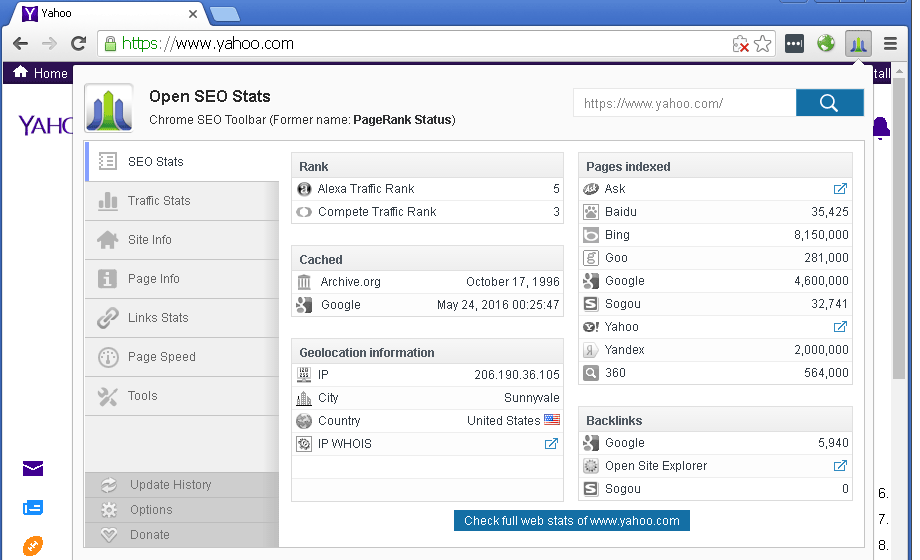 Update History
Open SEO Stats 12.0 (March 17, 2022)

Remove Alexa trafic image. Alexa Team has made the decision to retire Alexa.com on May 1, 2022.
Adjust the presenter mode for Archive.org cache information.
Improve the checking speed for Chrome verion 99.
Fix small bugs.

Open SEO Stats 11.0 (Dec 06, 2020)

Remove Facebook social stats from Site Info page. Facebook has closed the public API.
Remove StumbleUpon social stats from Site Info page. StumbleUpon moved to Mix.
Show the correct stats from McAfee SiteAdvisor. McAfee SiteAdvisor changed the output formats of site report recently.
Fully support for Google Chrome verion 87.
Remove Donation page.
Fix small bugs.
---

Vertaler:
Laurenz laeremans
---
Opmerking: Alle Google Icoontjes en namen zijn trademarks van Google Inc. Alle genoemde namen, producten enzovoort zijn eigendom van de respectievelijke eigenaren.