Open SEO Stats: Chrome SEO Araç Çubuğu
Updated on Sep 16, 2014:
PageRank Status
has been renamed to
Open SEO Stats
because of Google
Single Purpose
issue.
Chrome SEO araç çubuğunu ücretsiz yükle: Open SEO Stats
(Former name: PageRank Status)
Google Chrome da kolaylıkla alexa rank,indekslenmiş sayfa ve backlink sayıları gibi birçok özelliği vardır.
Screenshot of Open SEO Stats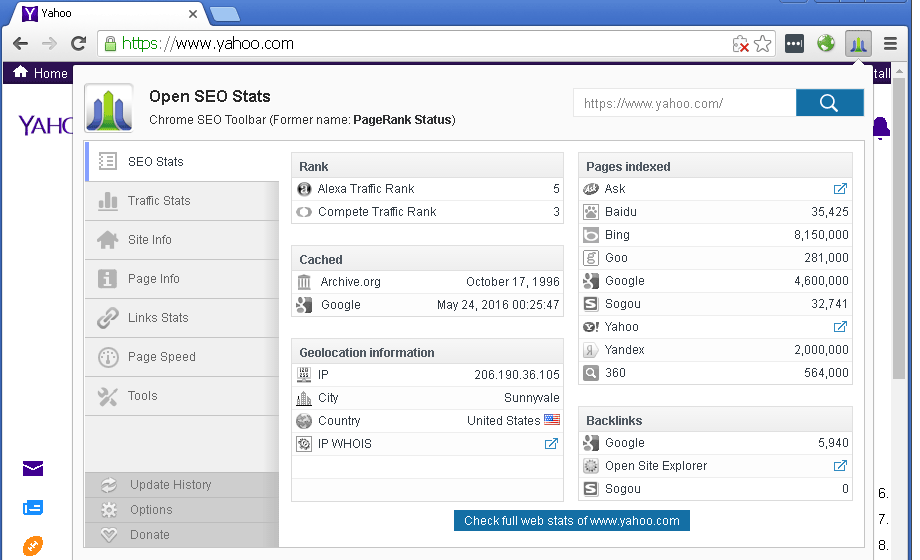 Güncelleme Geçmişi
Open SEO Stats 10.0 (June 19, 2019)

Support for 360, Goo.ne.jp, Sogou and Yandex new search results of pages indexed. These search engines changed the output formats of search results recently.
Support for Archive first cached time. Archive.org changed the cache data formats recently.
Remove Google+ social stats from Site Info page. Google+ was shut down on April 2, 2019.
Improve the checking speed for Chrome verion 75.
Fix small bugs.

Open SEO Stats 9.60 (April 10, 2017)

Adjust the page layout for Chrome v57.0.
Remove Compete and Quantcast from SEO Stats and Trafic Stats page. Compete has been been shut down; Quantcast has been been stopped their public API.
Support for Goo.ne.jp and yandex.com new search results of pages indexed. These 2 search engines changed the formats of search results recently.
---

Çeviri:
Adem TÜRK
,
Samet Saçıcı
---
Not: Bütün Google ikon ve isimlerin Tek yasal sahibi Google Inc.dir.