Open SEO Stats: Barre d'outils Chrome SEO
Updated on Sep 16, 2014:
PageRank Status
has been renamed to
Open SEO Stats
because of Google
Single Purpose
issue.
Installez gratuitement la barre d'outils Chrome SEO: Open SEO Stats
(Former name: PageRank Status)
Une optimisation pour Google Chrome donnant un accès aisé aux Alexa Rank, Compete Rank et Quantcast Rank de la page visitée, en plus des informations sur les backlinks, les pages indexées, les pages en cache, les réseaux sociaux, le Whois, la localisation Geo IP et plus encore.
Screenshot of Open SEO Stats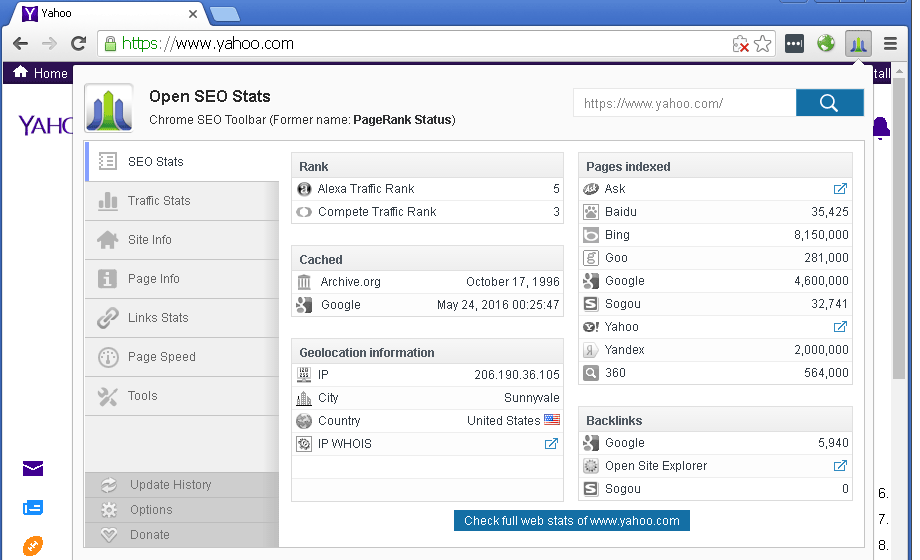 Update History
Open SEO Stats 10.0 (June 19, 2019)

Support for 360, Goo.ne.jp, Sogou and Yandex new search results of pages indexed. These search engines changed the output formats of search results recently.
Support for Archive first cached time. Archive.org changed the cache data formats recently.
Remove Google+ social stats from Site Info page. Google+ was shut down on April 2, 2019.
Improve the checking speed for Chrome verion 75.
Fix small bugs.

Open SEO Stats 9.60 (April 10, 2017)

Adjust the page layout for Chrome v57.0.
Remove Compete and Quantcast from SEO Stats and Trafic Stats page. Compete has been been shut down; Quantcast has been been stopped their public API.
Support for Goo.ne.jp and yandex.com new search results of pages indexed. These 2 search engines changed the formats of search results recently.
---

Traducteur :
Stephane Jourdan
---
Notice : toutes les icones Google et les noms sont déposées par Google Inc. Toutes les marques référencées, les noms de produits, les noms de services et les marques commerciales sont possédés par leurs propriétaires respectifs.